We have been in the food services industry for 30 years, creating excellent culinary experiences for everyone. The Hearty Kitchen's corporate catering services have been the popular choice for years because we treat everyone like family. In 2007 we opened a retail space – Focaccia's by the Hearty Kitchen – where our fantastic food could be enjoyed by all.
When Focaccias opened its doors, we welcomed the local neighborhood by sharing our freshly-made meals. Since then we have had the special opportunity to get to know each of our customers and serve with pride, a fresh and amazing menu.
Focaccia's supports DeliveryBizConnect and loves how they help us increase restaurant sales.
Krishna's Dosa Palace's Featured Menu Items
Brio
Canned Pop (355 ml)
Fairlee Juice (300 ml)
Jones Bottled Pop (355 ml)
Nestle Bottled Water
Perrier Water (750 ml)
San Pellegrino Can (330 ml)
Snapple
Large Bean Medley Salad
Large Caesar Salad
Large Garden Salad
Large Greek Pasta Salad
Large Greek Salad
Large Kale Salad
Large Quinoa Salad
Medium Bean Medley Salad (Medium)
Medium Caesar Salad (Medium)
Medium Garden Salad (Medium)
Medium Greek Pasta Salad
Medium Greek Salad (Medium)
Medium Kale Salad
Medium Quinoa Salad (Medium)
Beef Lasagna – Our Lasagna is filled with loads of mozzarella cheese and ground beef.
Cheese Ravioli
Fettuccine Pasta
Gnocchi – Potato Dumplings in our famous tomato Basil sauce, topped with parmesan cheese.
Penne Pasta
Spaghetti
Small Bean Medley Salad
Small Caesar Salad
Small Garden Salad
Small Greek Pasta Salad
Small Greek Salad
Small Kale Salad
Small Quinoa Salad
Thank you for choosing Focaccia's. We appreciate your business.
We now have our own Online and Mobile Ordering Platform. By ordering with our app or online ordering, you can help us keep our menu prices lower and save on fees.
The next time you crave Focaccia's but prefer to enjoy it at home or while out and about, please order for pickup or delivery by downloading our app using the link, or scanning the QR code. https://176838.com/Focaccias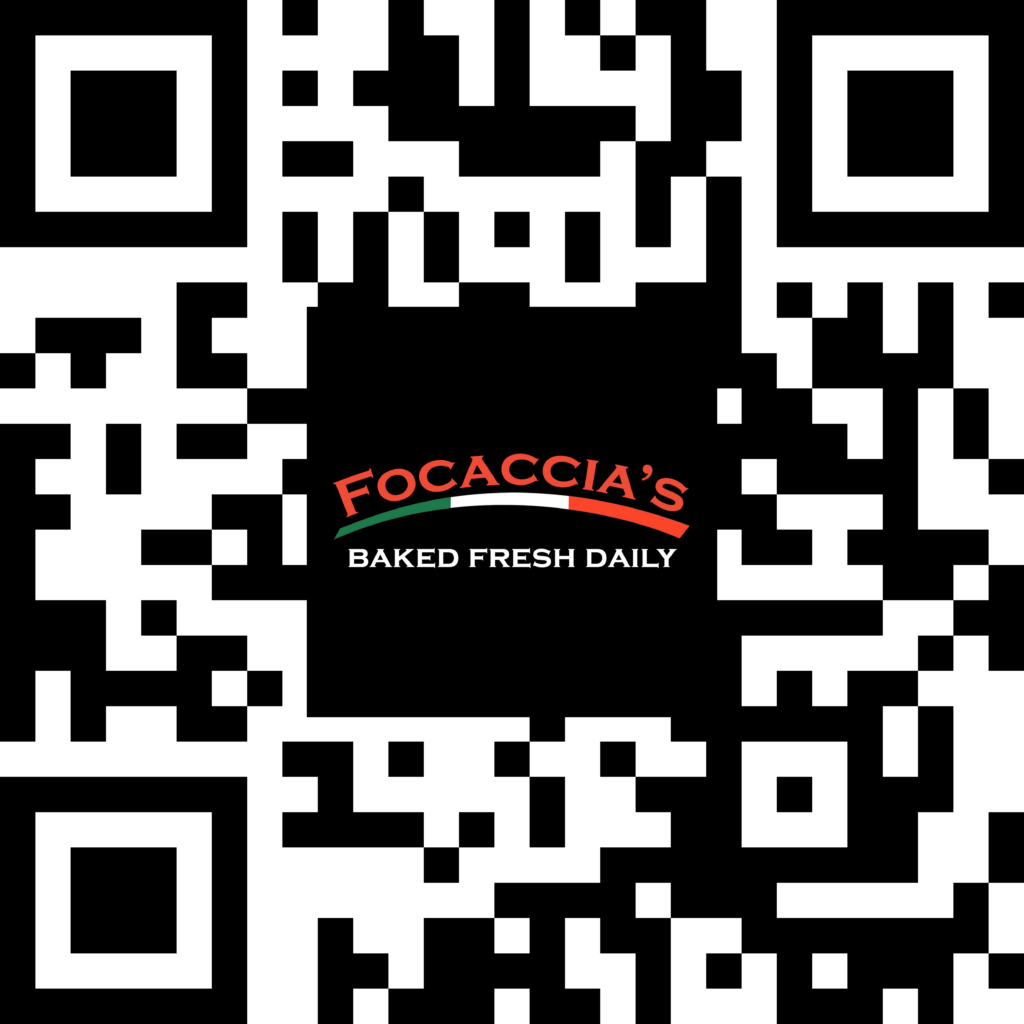 For more information, please visit Focaccia's website at:
Focaccia's is located at 1771 Albion Road Toronto, Ontario M9W 5W8 is a customer of DBC Technologies Ltd. provider of Restaurant CRM, Online/Mobile Ordering System, SEO Optimization, Social Media Marketing, Text Message Marketing, & Email Marketing to restaurants around the world.
Check out their Hungry Page on DeliveryBizConnect.com at:
You can learn more about DBC Technologies Ltd. and Restaurant CRM at: