WELCOME TO Krishna's Chaat House
Krishna's Chaat House takes you on a delicious experience with our traditional South Indian cuisine. Feast on the Sambar Idly, the Masala Dosa, and the Chicken Dum Biryani!
Krishna's Chaat House is located at 6468 King George Boulevard, Surrey, BC, V3W 4Z3
Krishna's Chaat House's Featured Menu Items
Aloo Tikki Channa or Samosa Chat Channa
Cauliflower 65
Chaat Special – Bhel puri, papdi chaat sev puri, dahi puri, samosa chaat, and dahi vada chaat.
Chicken Manchurian Momos – Halal.
Chicken Momos – Fried and steamed. Halal
Chicken Momos – With hot sauce. Halal.
Chili Chicken – Halal.
Dabeli – Dabeli is served with fries.
Delhi Gol Gappe (10 pcs)
Egg Omelette – Mixed with veggie, served with bread and fries.
Egg Sandwich – With fries.
Gobi Manchurian
Idly or Vada
Krishna Special Shooter – Fresh paneer mixed with potatoes, chickpeas, and spices.
Krishna's Combo – Two vadas and idly or two idly and one vada.
Mumbai Masala Sandwich – Mumbai masala sandwich with fries.
Pav Bhaji – Soft bun served with sabji and fries.
Poori or Bhature – Poori or Bhature served with aloo or channa.
Potato Slider (Vada Pav) (2 pcs) – Potato Slider served with fries
Sambar Idly or Vada – Vada soaked in respective sauce.
Tandoori Paneer Fingers
Veg Burger or Aloo Tikki Burger – Served with fries.
Veg Manchurian Momos – Vegetarian.
Veg Manchurian or Soya Chaap Manchurian
Veg Momos – Fried or steamed.
Veg Sandwich – Veg Sandwich with fries.
Veg Wings – Veg Wings served with fries.
Idly – Three pieces of idly, steamed rice, and lentil cake, served with sambar and chutney.
1Idly Manchurian – Diced idly tossed with onion, pepper, and sauce.
1Chaat Special – Bhel puri, papdi chaat, samosa chaat and dahi vada chaat.
1Bonda Vada Pav
1Masala Fries
1Pav Bhaji – Two-piece soft bun served with Bombay saji.
Vada – Three pieces of deep-fried lentil donuts.
Poori Masala – Two-piece served with potato sabzi.
Dosa Palace Combo
Sambar Idly or Vada, Rasa Vada, and Dahi Vada – Two-piece vada soaked in respective sauce.
Cauliflower 65 – Gobi marinated with South Indian spices, then deep fried.
Paneer Fingers
Masala Podi Ghee Idly
Gobi Manchurian – Crispy and fried gobi tossed with Indian Chinese sauce.
Chef Special Dosa - Non-Vegetarian
Chicken Masala Dosa
Chicken Vindaloo Dosa
Lamb Masala Dosa
Lamb Vindaloo Dosa
Chicken Palak Dosa – Dosa stuffed with chicken and spinach.
Lamb Palak Dosa – Dosa stuffed with lamb and spinach.
Chettinad Chicken Dosa
Lamb Kara Dosa
Prawn Masala Dosa
Prawn Vindaloo Dosa
Chettinad Prawn Kara Dosa
Egg Masala Dosa
Egg Onion Masala Dosa
Onion Rava Meat Dosa
Gulab Jamun – Spongy milky balls soaked in scented sugar syrup.
Rasmalai – Cheese patties in sweetened and thickened milk.
Vermicelli Payasam – Rice pudding flavoured with saffron and garnished with nuts.
Icecream
Kids Special
Fries with Butter Sauce Pudding
Mini Cheese, Mini Paneer or Chocolate Dosa
Chicken Nuggets with Fries
French Fries
Krishna's Special Biryani and Rice
Vegetable and Paneer Biryani
Chicken Biryani
Goat Biryani
Lamb Biryani
Prawn Biryani
Egg Biryani
Lemon Rice
Bisi Bele Bath (Sambar Rice)
Thank you for choosing Krishna's Chaat House. We appreciate your business.
We now have our own Online and Mobile Ordering Platform. By ordering with our app or online ordering, you can help us keep our menu prices lower and save on fees.
The next time you crave Krishna's Chaat House but prefer to enjoy it at home or while out and about, please order for pickup or delivery by downloading our app using the link, or scanning the QR code. https://176838.com/Krishnaschaat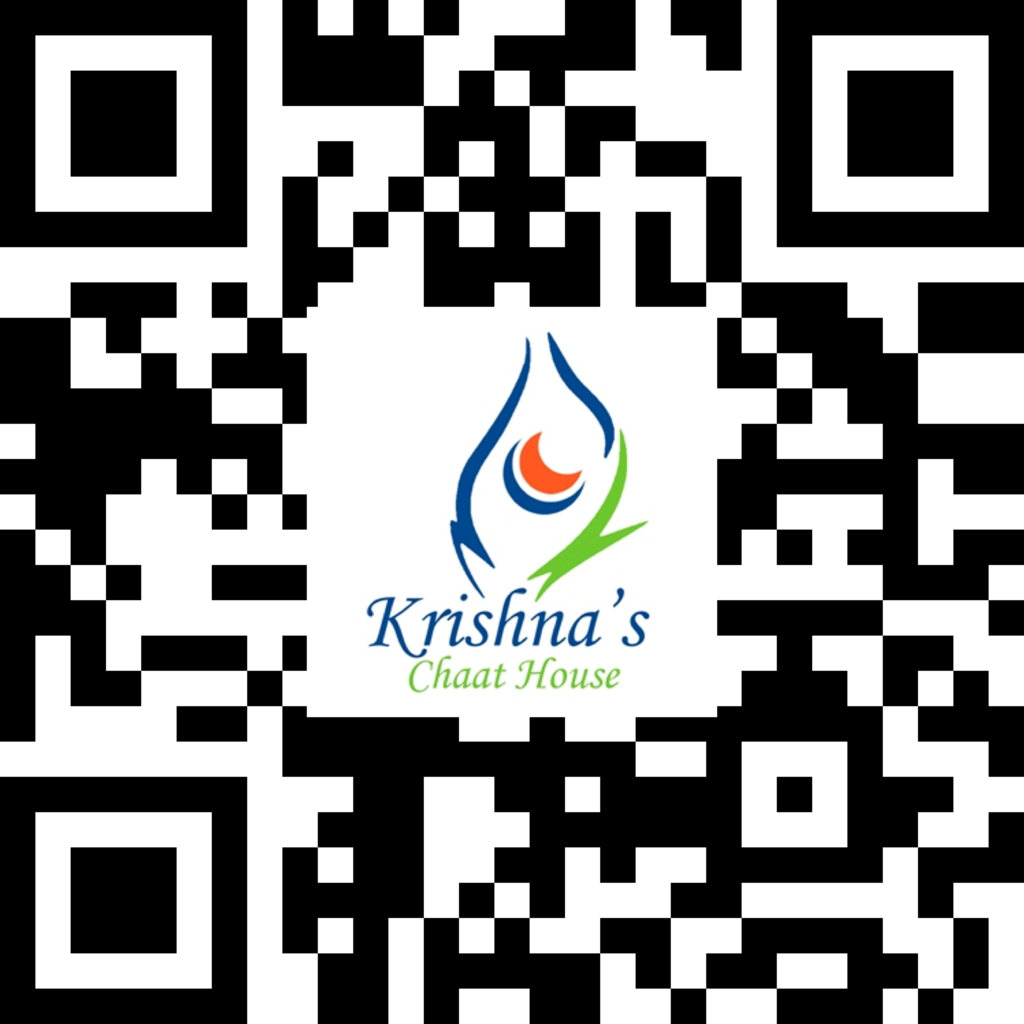 For more information, please visit Krishna's Chaat House's website at:
The Best Restaurant in Surrey – Krishna's Chaat House at 6468 King George Boulevard
Tel: (604) 593-2070
Krishna's Chaat House is located at 6468 King George Boulevard Surrey is a customer of DBC Technologies Ltd. provider of Restaurant CRM, Online/Mobile Ordering System, SEO Optimization, Social Media Marketing, Text Message Marketing, & Email Marketing to restaurants around the world.
Check out their Hungry Page on DeliveryBizConnect.com at:
You can learn more about DBC Technologies Ltd. and Restaurant CRM at: