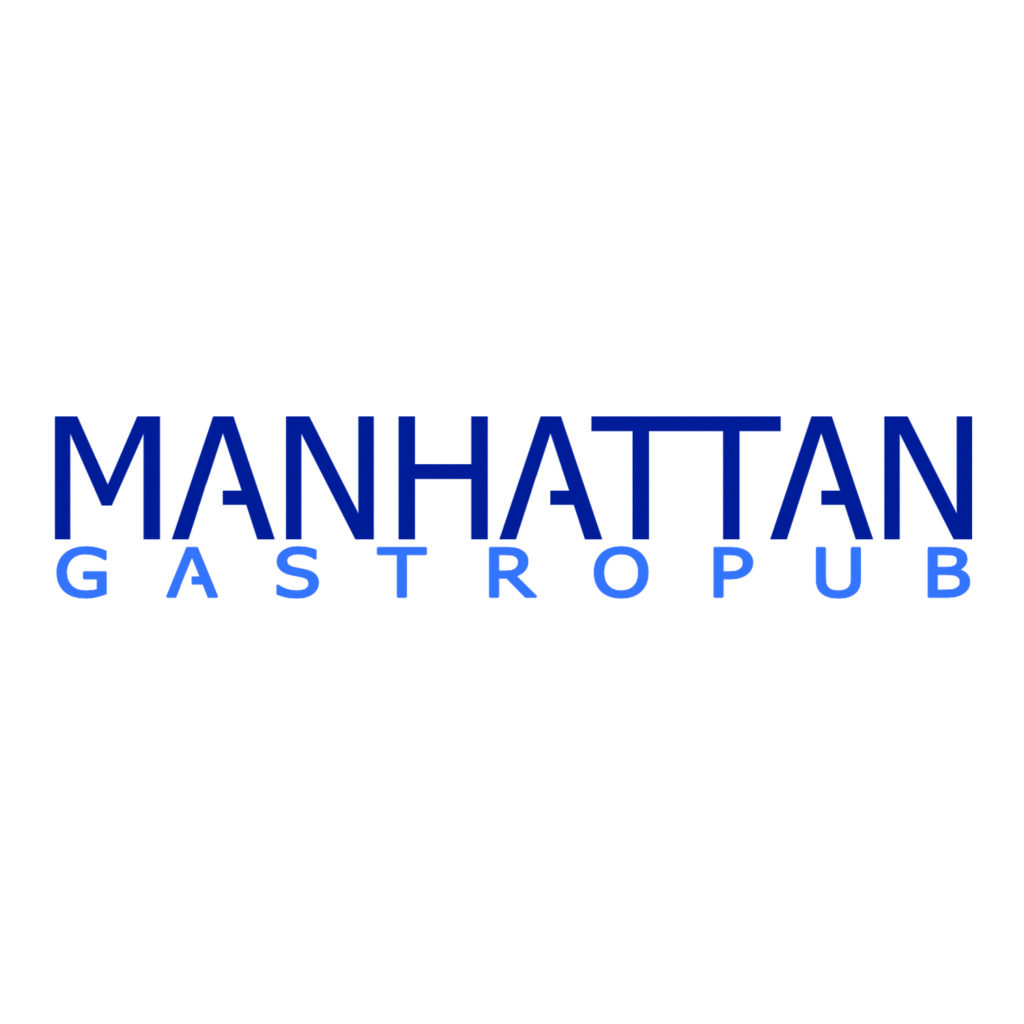 The Manhattan Gastropub & Restaurant
WELCOME TO MANHATTAN GASTROPUB
The Manhattan Gastropub & Restaurant is located at 234 Primrose Drive Saskatoon, Saskatchewan S7K 6Y6 Canada
Handcrafted classics, and reinvented pub fare is the standard at The Manhattan. Featuring local draught beer, and a warm casual atmosphere, we are the perfect place to recharge after a busy day, feed the family, share a special date night, or just share a pint with friends and unwind.
ENTREES
Served with seasonal vegetables and your choice of Garlic Mashed Potatoes, French Fries, Loaded Baked Potato, or Rice Pilaf. Served with a garlic breadstick. Add a starter soup or salad for $3.99 (only available after 4pm)

8 OZ NEW YORK STRIP
New York Cut, "AAA' Canadian Beef grilled to your liking and basted with rosemary garlic butter and topped with sautéed mushrooms.
GREEK SOUVLAKI
Your choice of Pork or Chicken Souvlaki, marinated in our special ingredients.
TEQUILA LIME CHICKEN
Tequila marinated chicken, grilled and topped with mexi-ranch sauce, mixed cheese, and fresh pico de gallo. Served on a bed of tortillas.
CHEFS CORDON BLEU
Tender chicken breast rolled with smoked ham and Swiss cheese, then finished in a parsley white wine sauce.
BREADED CUTLETS
Topped with gravy.
CHICKEN PARMESAN
Charbroiled chicken breast, covered in marinara, baked with parmesan, feta & mozzarella cheese.
GREEK STYLE OR BBQ PORK BACK RIBS
Served the way you like them!
FINGER FOOD
Served with your choice of Salad, Soup, French Fries or Rice Pilaf. (Mashed Potatoes and Loaded Baked Potato available after 4pm)
BONELESS DRY RIBS
Boneless breaded ribs, seasoned to perfection & deep fried.
CHICKEN FINGERS
Served with BBQ, plum, honey mustard or honey dill sauce.
CURRY
CURRY KASHMIRI CHICKEN
Juicy chunks of marinated chicken in a savoury blend of curry, spices and cream. Poured over a bed of rice and served with Naan bread. Delicious is an understatement!
SEAFOOD
LEMON BUTTER SALMON
Grilled salmon fillet with a delicious lemon butter white wine sauce served with your choice of side and seasonal vegetables.
FISH & CHIPS 
Fresh hand battered haddock, served crispy over ridged plank fries, with tartar sauce and spicy Asian coleslaw.
PASTA
All pasta served with garlic breadstick. Add Starter soup or salad for 3.99

BAKED LASAGNA
Our traditional best seller! Savoury meat sauce & lasagna noodles topped with mozzarella cheese and baked in our oven.

BAKED SPAGHETTI
Mounds of spaghetti noodles smothered with meat sauce & mozzarella cheese and baked in our oven.
FETTUCCINE ALFREDO
Fettuccine noodles combined with our classic Alfredo sauce & topped with parmesan cheese.
BAKED FOUR CHEESE FETTUCCINE
Creamy Alfredo sauce flavoured with cheddar, feta, mozzarella and parmesan cheese. Served over fettuccine and baked in our oven.
ASIAN NOODLE BOWL
Wok tossed noodles, mixed with a light teriyaki sauce, green and red peppers, crispy Thai chicken, green onion, and shredded carrot. Finished with toasted sesame seeds.
SPAGHETTI & MEAT SAUCE
A classic! Spaghetti with our famous meat sauce.
BAKED CHICKEN FETTUCCINE ALFREDO
Juicy chunks of boneless chicken breasts combined with Alfredo sauce & chives smothered with mozzarella cheese and baked in our oven.
MEDITERRANEAN LASAGNA OR SPAGHETTI
Lasagna or spaghetti noodles baked with marinara tomato sauce, spinach, mushrooms, feta cheese and mozzarella cheese.
BAKED CHICKEN & MUSHROOM FETTUCCINE
Tender chunks of chicken & fresh mushroom in a creamy Alfredo sauce smothered with mozzarella cheese and baked in our oven.
ALLA CARBONARA
A creamy sauce made with grated Parmesan, eggs, bacon and ground black pepper. Combined with your choice of Spaghetti or Fettuccini.
CHARBROILED BURGERS
Burgers come with choice of french fries, garden salad, or soup Substitute Caesar salad or Greek salad for $1.99 more See our 'Change it Up' menu for more options!

SMOKEHOUSE BURGER
Smothered with BBQ sauce, crisp bacon, and cheddar cheese. Served with lettuce, tomato, onion & pickles.
CHIPOTLE BACON CHEDDAR BURGER
Served with melted cheddar, bacon, lettuce, tomato, onion, pickles and chipotle mayo.
N.Y. CHEESEBURGER
8oz Sirloin burger, topped with aged cheddar, lettuce, tomato, onion, and pickles
NEW JACK CITY BURGER
Our decadent 8oz all sirloin burger slathered in whiskey BBQ sauce, and topped with fried pepperoni, sliced mushrooms and cheddar cheese. Comes with lettuce, tomato, onion, and pickle
CHICKEN BURGER
Lightly breaded chicken breast, deep fried golden brown. Garnished with bacon, cheese, lettuce & tomato.
TEAR JERKER BURGER
Seasoned with Cajun seasoning, basted in hot sauce and topped with mozzarella cheese, jalapeno and bacon. Comes with lettuce, tomato, onion, and pickle
SKIRT BURGER
A spectacular burger covered with a heap of shredded mixed cheese. We then steam it, forming a cheese skirt around the burger, and top it off with bacon, lettuce, tomato, onion, and pickle
Thank you for choosing The Manhattan Gastropub & Restaurant. We appreciate your business.
We now have our own Online and Mobile Ordering Platform. By ordering with our app or online ordering, you can help us keep our menu prices lower and save on fees.
The next time you crave The Manhattan Gastropub & Restaurant but prefer to enjoy it at home or while out and about, please order for pickup or delivery by downloading our app using the link, or scanning the QR code. https://176838.com/Manpub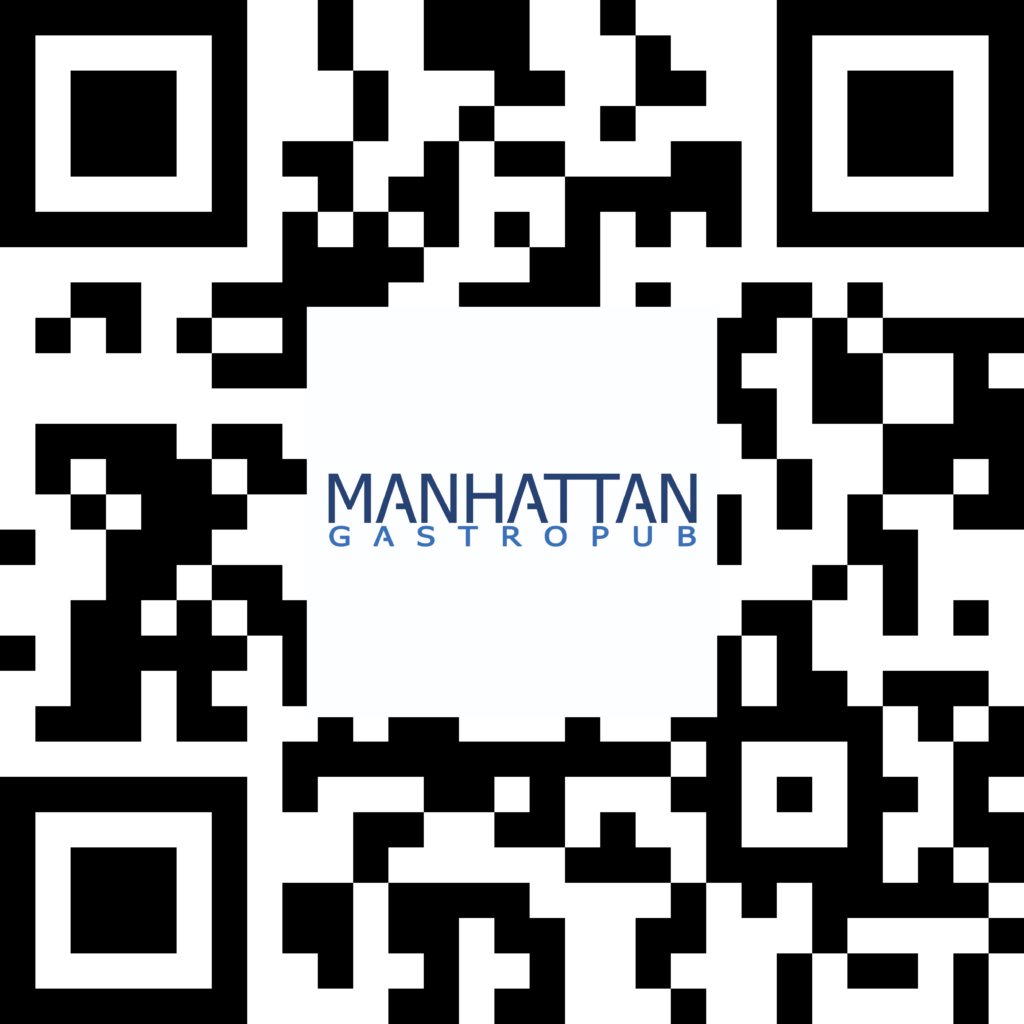 For more information, please visit The Manhattan Gastropub & Restaurant's website at:
The Best Restaurant in Saskatoon – The Manhattan Gastropub & Restaurant at 234 Primrose Drive
Tel: (306) 382-8222
The Manhattan Gastropub & Restaurant is located at 234 Primrose Drive Saskatoon is a customer of DBC Technologies Ltd. provider of Restaurant CRM, Online/Mobile Ordering System, SEO Optimization, Social Media Marketing, Text Message Marketing, & Email Marketing to restaurants around the world.
Check out their Hungry Page on DeliveryBizConnect.com at:
You can learn more about DBC Technologies Ltd. and Restaurant CRM at: