Trifon's Pizza Monarch Building
Welcome To Trifon's Pizza Monarch Building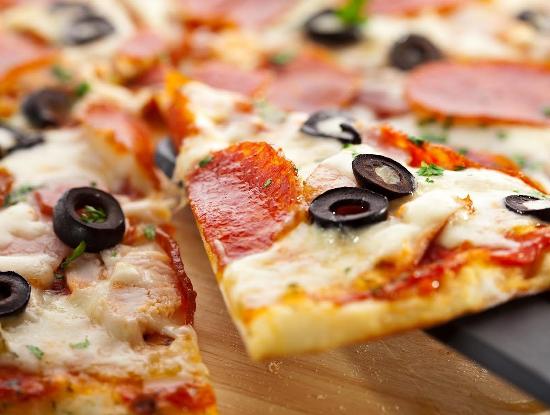 Ahh, the deliciousness of Trifon's Pizza at 536 2nd Ave N. in Saskatoon…
It all began back in 1972 with Trifon Agioritis, a man who knew great pizza.
For over 40 years now, Trifon's Pizza has been serving up tantalizing pizza's.
Made with honest to goodness crust, smothered with fresh tomato sauce, gooey mozzarella cheese & all your favourite flavours in our fresh and unique toppings.
Trifon's Pizza Monarch Building is located at 536 2nd Avenue North – #140 Saskatoon, Saskatchewan S7K 2C5 Canada.
Trifon's Pizza Monarch Building | Featured Menu Items
8″ Small Classic Choices
No substitutions on the gourmet pizza combinations.
8″ Small Cooks Special Pizza
Pepperoni, mushrooms, bacon, and double cheese.
8″ Small Trifon's Royal Pizza
Pepperoni, bacon, salami, sausage, onions, green peppers, mushrooms, and mozzarella cheese.
8″ Small Meat Lovers Pizza
Salami, ham, pepperoni, ground beef, bacon, and mozzarella cheese.
8″ Small The Vegetarian Pizza
Mushrooms, green peppers, fresh tomatoes, onions, black olives, and mozzarella cheese.
8″ Small The Athenian Pizza
Spinach, feta, and mozzarella cheese.
8″ Small The Monarch Special Pizza
Trifon's signature pizzza sauce, mozzarella, pepperoni, smoked ham, green peppers & mushrooms
8″ Small The Spartan Pizza
Trifon's signature pizza sauce,mozzarella, fresh spinach, mushrooms, olives, red onions & feta topped with fresh tomatoes.
8″ Small The Carnivore Pizza
Trifon's meat sauce, mozzarella, smoked ham, pepperoni, spicy italian sausage & garlic sausage.
Soups & Salads
All salads include garlic bread.
Greek Salad
Gluten-free. Made with fresh tomatoes, red onion, cucumbers, and Greek olives topped with feta cheese.
Caesar Salad
Gluten-free. Fresh Romaine heart tossed with Trifon's Caesar dressing.
House Salad
House Salad
Chicken Caesar Salad
Chicken Caesar Salad
Boneless Chicken Wings
Crispy breaded seasoned chicken breast pieces tossed in your choice of sauce.
Chicken Wings
Chicken wings are done in your choice of sauce. Served with garlic bread.
Boneless Dry Ribs (1 lb)
Boneless, breaded ribs, seasoned to perfection, and deep-fried. Served with garlic bread.
Chicken Fingers
Chicken fingers include your choice of sauce. Served with garlic bread.
Poutine
French fries, gravy, and mozzarella cheese.
Sweet Potato Fries
Sweet potato fries are served with chipotle mayonnaise.
Pizza Bread
Baked pizza dough with garlic and herbs sprinkled with mozzarella and parmesan cheese.
Jalapeno Poppers
Jalapeno poppers are served with spicy salsa sauce or ranch dressing.
Breaded Mushrooms
Breaded and deep-fried until golden brown. Served with dill dip.
Buffalo Cauliflower Bites
Lightly battered cauliflower bites tossed with Buffalo Ranch Sauce.
$12.55
Nacho Platter
Hand-cut tortilla chips topped with sharp cheddar, mozzarella, green peppers, olives, banana peppers, tomatoes & topped with ground beef. Served with salsa & sour cream.
Chicken Quesadilla
Spicy chicken, cheddar & mozzarella cheese, green onion & diced tomato. Served with sour cream and salsa
Greek Fries
Our signature fries tossed in Trifon's Souvlaki sauce, feta, red onion & tomatoes.
Our full menu includes:
Gourmet Pizza
Pizza
Appetizers
Soups
Salads
Burgers
Subs
Sandwiches
Pasta
Steaks
Seafood
Children's menu
Seniors menu
Desserts
Thank you for choosing Trifon's Pizza Monarch Building. We appreciate your business.
We now have our own Online and Mobile Ordering Platform. By ordering with our app or online ordering, you can help us keep our menu prices lower and save on fees.
The next time you crave Trifon's Pizza Monarch Building but prefer to enjoy it at home or while out and about, please order for pickup or delivery by downloading our app using the link, or scanning the QR code.
Trifon's Pizza Monarch Building supports DeliveryBizConnect and loves how they help us increase restaurant sales.