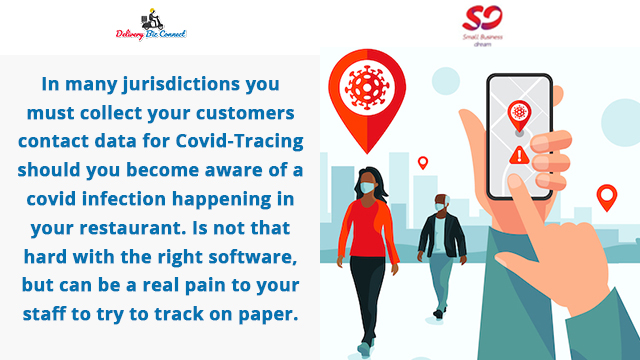 Restaurant check in, check out during re-opening must conform with Covid-tracing in many jurisdictions around the world. You must keep a record of everyone who's checked in whether it's a log book or a CRM with a check-in function like DeliveryBizConnect.
Data these days is super-critical. It's important not only for your business but also for the safety of your customers and staff. We can't think of any reason why you shouldn't collect restaurant check in, check out data especially in this new reality. But, there's plenty of reasons why you should.
First, check-in customers who agreed to be in your CRM have an 83% conversion rate, increasing your sales by 25%. What if 50% said no to your offer? We'll that means you have 50% who's interested.
Ask them about their experience. Offer goodies the following week – a bottle of soda, cookies, french fries or anything to keep your restaurant top-of-mind. And the best part? It's all automatic.
So what other things can you do with DeliveryBizConnect?
You can start taking online orders vs. just phone and walk-up orders and increase your restaurant sales by 30%, plus another 11% thru mobile app orders.
Do takeouts and do your own deliveries thru the Driver App to get 20% more sales.
Find out how you can efficiently collect and control your restaurant check in, check out data at https://deliverybizconnect.com