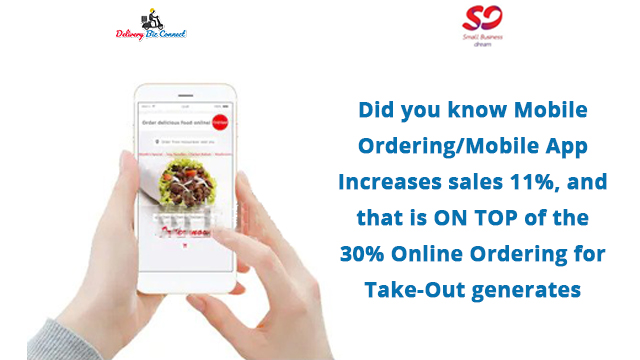 Mobile ordering apps increase sales by 11%. That's on top of the 30% you get from taking online orders. However, DeliveryBizConnect goes a little bit further.
Wouldn't it be great if you can have not just any mobile ordering app, but one that actually has your own personal branding?
Of course, you can hire people to make an app for you, but that'll cost you around $3,000 for the app alone. That's a lot of money! Good news is nowadays you don't actually need to spend that much on a personalized mobile ordering app.
DeliveryBizConnect is a complete restaurant CRM suite that employs top-of-mind strategy, allowing app users to see your brand briefly each time they're on the app.
So why mobile apps? Why not just use email? Pretty simple. With email, you only get 25% open rates or around 35% after 3 days, while native apps like DeliveryBizConnect allows you send push messages DIRECTLY to their lock screens.
Remind them you're closing in 15 minutes. Let them know of your newest offerings and special deals. ALL IN REAL TIME!
As an added bonus, DeliveryBizConnect mobile app comes with its own loyalty points and referral systems to accelerate adoption and grow your restaurant business like never before.
Start doing takeouts and doing your own deliveries thru the Driver App and add 20% more sales. Save on delivery costs using our 3.33% of Order Deliveries vs. 30% from the other big apps. Take online orders vs. just phone and walk-up orders.
Don't forget to subscribe your check-in customers to your list using DeliveryBizConnect check-in function and CRM and get 25% more sales.
Find out how you can rapidly grow your restaurant business at https://deliverybizconnect.com