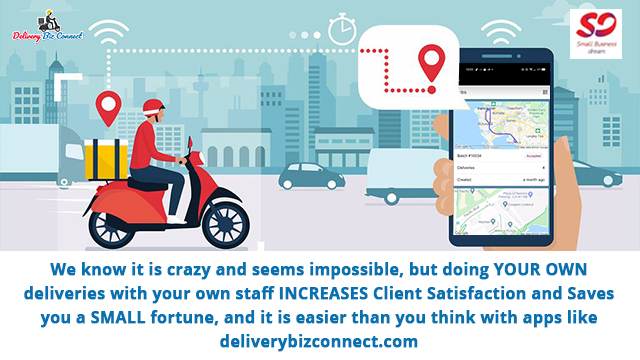 Restaurant deliveries can be very challenging especially if you've never done one before. We recommend getting Step 1 to Step 7 of our Rapid Restaurant Sales Growth 9 Step New Reality Plan right before moving on to this one to get the full benefit of doing your own deliveries.
You can go at your own pace, but doing your own restaurant deliveries is a surefire way to increase customer satisfaction and increase your sales by 20% with apps like the Driver App from DeliveryBizConnect.
The only way you can profit from restaurant deliveries is if you have enough of it to go around. This is why we think using third party delivery apps to get more customers and paying 10-30% commissions the first time is a good idea as long as you're putting them into your own database for doing your own deliveries later on.
We've actually did our own calculation, but no matter how you cut it, you really need to start doing your own deliveries to become successful as a restaurant business in this new reality. And by way, you're not just paying 30% on third party delivery apps. It's actually 38% including deliveries that didn't go so well.
You absolutely need to have your own restaurant deliveries!
DeliveryBizConnect will get you covered on your takeouts and your own deliveries thru the Driver App. It's optimized to give the fastest route so they arrives fresh and kitchen perfect. That's 20% more sales coming from a happy, satisfied customer.
Start taking online orders vs. just phone and walk-up orders and add an extra 11% thru mobile app orders. Save on delivery costs using our 3.33% of Order Deliveries vs. 30% from the other big apps. Use DeliveryBizConnect check-in function and CRM for an additional 25% increase in sales.
Find out how you can rapidly grow your restaurant business at https://deliverybizconnect.com