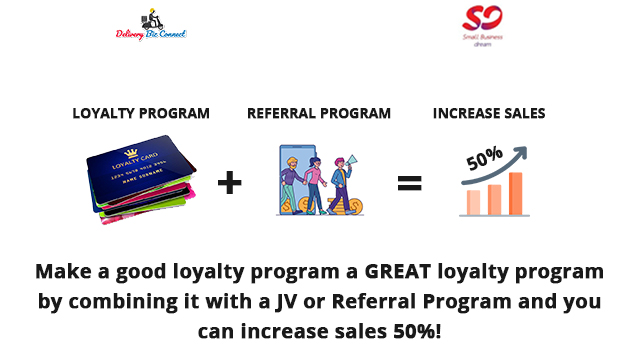 Restaurant referral program in addition to your loyalty program is really the key to maximize your sales by as much as 50%.
Make it easier for customers to invite more people to use the app.  DeliveryBizConnect offers a way to invite more people using a restaurant referral program built on top of the app.
Note: you need to have online ordering already setup, also through DeliveryBizConnect. That's an additional 30% sales on takeouts and pick up orders and another 20% when you do your own deliveries through the Delivery App.
Reward your customers with loyalty points, gift certificates, free goodies and meals, etc. and experience growth like you never thought possible. Of course, it all depends on the quality of your product or service, so always make sure they're top notch.
So how exactly are you going to keep track all of these? DeliveryBizConnect has a Joint Venture (JV) module in the back office giving you full control on how your restaurant referral program works. Referrals, loyalty points, who gets what – it's all there for you to see. 
DeliveryBizConnect lets you do all these, including mobile app order for an additional sales of 11%
Remember to subscribe your check-in customers to your list using DeliveryBizConnect check-in function and CRM for an additional 25% increase in sales. 
Find out how you can rapidly grow your restaurant business at https://deliverybizconnect.com