Supply chain has now become a global issue with ports piling up from undelivered goods as labour shortages are still on the rise and suppliers still unable to keep up with the rising demands.
For restaurant owners getting the supplies they need has been a major struggle. In this article, we'll take a look at how supply chain issues are affecting the restaurant industry and what can be done to address this issue.
Not enough supplies
Farm products have been in short supply for a long time. But it's only now that we're seeing the effects as economies re-open and businesses cater to more and more customers. It turns out we don't have enough supplies to begin with.
During the past months demand for these goods had been very low, suppliers had to reduce or stop production altogether. Restaurants no longer stock up as much as they should due to lockdowns and dine-in restrictions.
We thought maybe this whole situation could be reversed by a simple flick of a switch, i.e. lifting all restrictions. However, that's not the case with most restaurants.
Supplies like flour, meat, dairy products, fruits, vegetables, etc. can take a while to produce in greater quantities – that is if suppliers can get enough people to work for them. Or if they do, they might have a hard time getting their products delivered, if at all.
This shortage could go on possibly for months or even a year. In the meantime, restaurant owners are left to fend for themselves. Some menu items will have to be removed or modified using substitutes. There's simply not enough for everybody.
Not enough workers
The labor force is also in short supply, e.g., factory workers, machine operators, and truck drivers. Some point to job security as one of the main reasons people stay away from these jobs. They went on to start their own careers, worked from home, or became self-employed.
Sadly, these are the very people we depend on to provide our basic necessities during the pandemic. With supply chains all over the world in disarray, governments will have to rethink their stance on these essential workers.
Government relief is also viewed as one of the reasons why people refused to work. In Canada for instance, there's COVID benefits for just about anything from rent subsidy, income support and caregiving.
This might change, however, as government relief starts drying up forcing people to go to work. The question is will they ever go back to that same "unsecure" job they got laid off from, or find something more fulfilling?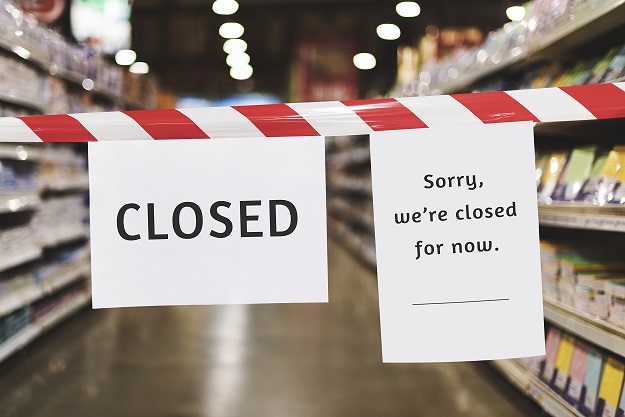 Everyone is caught off-guard
Nobody thought a global health crisis of this scale could put our modern world to a grinding halt. And yet it took us nearly two years to put it under control. In hindsight, suppliers wouldn't have slowed down if restaurants had been able to keep up with the influx of goods. Restaurants should have kept going whether it's limited indoor dining, patio dining, pickup orders, takeout or delivery and they would have been able to give suppliers a steady stream of income by sourcing from them.
The supply chain issue we're facing boils down to one key problem: lack of preparedness. It's a classic case of not storing up for the rainy days or not having a backup plan if things go haywire.
Simple things like masking up, sanitation, avoiding crowded or closed spaces, and being able to shift to takeout and delivery when needed would have curbed the spread, just enough to keep the economy going. It's a delicate balance between opening the economy and keeping the spread at bay.
Creating a pandemic response for every kind of business, institution, or organization is a must if we are to survive another onslaught. The tide has already turned in our fight against the pandemic but it might take some time for the supply chain to be up and running again.
The least we can do for now is find alternatives such as substituting ingredients, changing the menu, or offer pre-ordering for limited menu items.
This certainly won't be the last pandemic and we don't know for sure when the next one is going to be. In the next section, we'll talk about how you can use technology to prepare your restaurant in these kinds of situations.
How To Use technology to "bulletproof" your restaurant
Here are some things restaurants need to be working on to protect their business from these types of situations in the future:
Having a system to keep restaurants up and running.
The great thing about restaurants and food services is that they're an essential business. They just need a system to stay in business even if it's limited indoor dining, patio dining, pickup order, takeout or delivery. DeliveryBizConnect offers an all-in-one solution that takes care all of them at just 3.33% delivery fee (minimum $1, maximum $2.50) which also includes POS, online ordering, QR menu for touchless ordering, delivery app, driver app, route optimization, push notifications – basically having their own version of Uber Eats and more.
2. Having a system to invite customers back
DeliveryBizConnect is the only delivery app that's built on top of a full restaurant CRM. This gives restaurants the ability to market to current customers over and over using state-of-the-art sales and marketing automation (push notification, geofencing, email marketing, SMS marketing, and social media marketing) so restaurants stay in touch with their customers.
3. Encouraging more delivery drivers in the area
We make it a point to ensure delivery drivers are paid a living wage to encourage more drivers in the area. DeliveryBizConnect is by far the fairest in terms of pay which is a minimum of $5, topped up to $9 if tip is less than $4. For tips paid online, customers can split between the drivers and your staff (split-tipping).
They also get long trip bonuses for taking the extra mile. But that's not all. Aside from delivery charges, they also earn from multiple income streams simply by growing their bubble and getting more drivers and restaurants into the system.
Start Online Ordering and Deliveries NOW!
There's no better time to start taking online orders and deliveries than today. Jumpstart your online orders, takeouts, and deliveries with our ZERO RISK DBC Maximization Package (money back guaranteed for 60 days). Protect your restaurant from future lockdowns and restrictions and experience growth like never before.