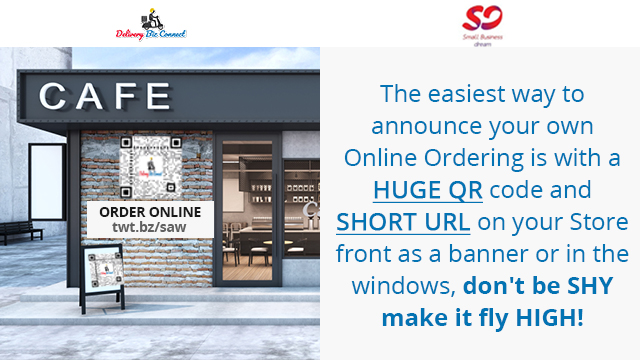 Restaurant QR ordering increases your sales by 30% or more on online pick up orders alone. It's a very simple technique that you can implement once you have online ordering in place.
Make your restaurant QR ordering posters big enough for people across the street to scan using their phones. Don't forget to put the shortened URL in big bold letters in case they don't have QR scanners installed.
Don't be shy, make it FLY HIGH!
One interesting side benefit to using this restaurant QR ordering technique is you won't have to deal with a lot of phone orders once people start coming to you online which means you can spend more time growing your business.
DeliveryBizConnects lets you do all these, including takeouts and doing your own deliveries thru the Driver App which adds an extra 20% in sales.
Fun fact: you'll get as high as 83% conversion rate when you subscribe your check-in customers to your list using Deliverybizconnect check-in function and CRM for an additional 25% increase in sales.
Get 30% more sales through online orders vs. just phone and walk-up orders and another 11% thru mobile app orders.
Find out how you can rapidly grow your restaurant business at https://deliverybizconnect.com