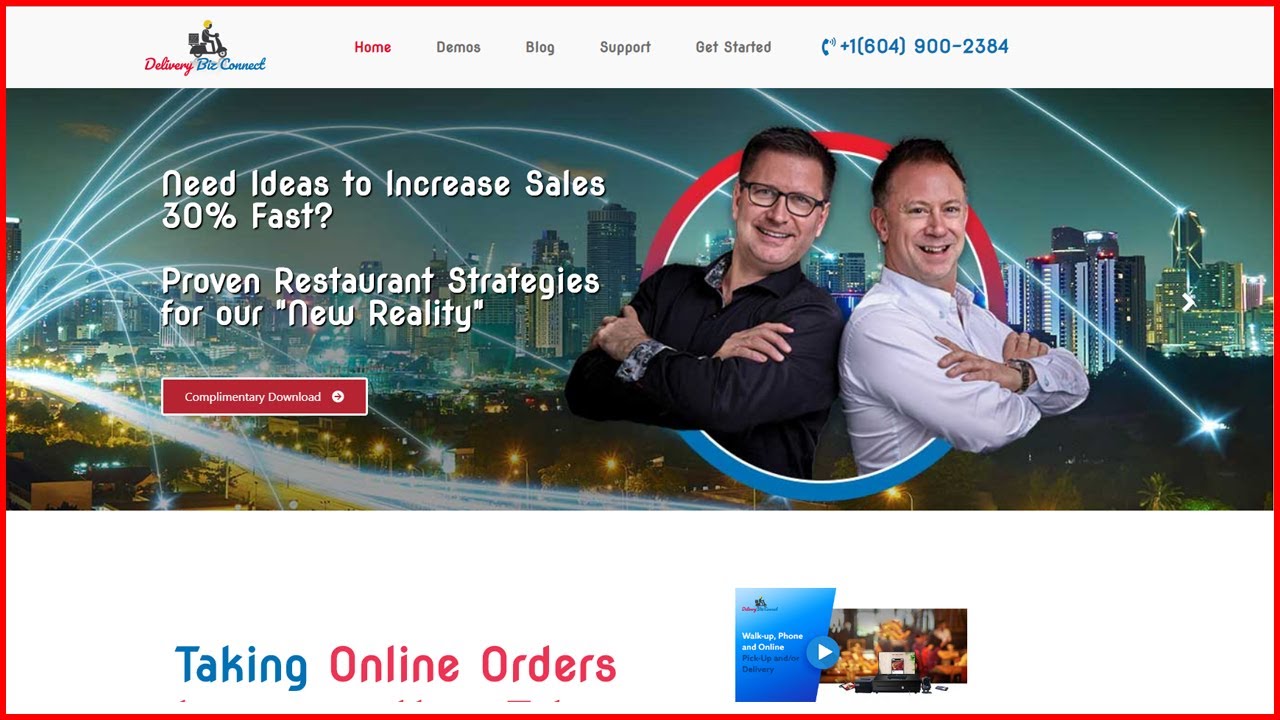 What is DeliveryBizConnect, and how is it helping so many restaurants increase restaurant sales from dine-in, delivery, and takeout by 23% or $6900/month per 30 seats over 8 months?
DBC Technologies Ltd. (dba. DeliveryBizConnect.com) is a Restaurant Online Ordering System that provides online ordering for restaurants and a Restaurant Mobile Ordering App built on top of our industry-leading restaurant CRM.
When used according to our team of restaurant consultants' restaurant best practices, it can increase restaurant sales by 23% in 6 to 8 months by automatically collecting your restaurant customer data and utilizing its series of automated restaurant promotion campaigns.
We help you automatically collect your customer data like email addresses, mobile phone numbers for text/SMS messaging campaigns, and mobile app downloads for instant time-sensitive push notification campaigns.
We help your restaurant increase sales by an average of 23% over the next 6 to 8 months, often without needing to add staff.
Sales of just $1000/day or $30,000/month could result in a $6900/month increase in sales.
This is done by:
Hijacking 30% of your expensive pick-up and delivery orders for an average savings of $3 on pickups and $6.50 on deliveries. You automatically collect your customer contact data.
Utilizing your restaurant's automatically collected customer database in DBC's restaurant CRM to make offers and updates to your customers by email and text message.

Announce new items, happy hour menus, and special deals for coming early.
Have time-sensitive specials.

Sawbucks Pub, one of our clients, did a "free shrimp appetizer if you come before the end of the hockey game and show this text message" with just 1000 text messages going out, and in 2 hours, it generated an additional $1180 in sales.

We provide automated templates with pre-written content for you to use for promotions once you have collected enough data.
Want to know more about our DBC Sales Max package that includes everything you need to achieve this 23% increase in your restaurant sales? Check out our Sales Max Packages.
Need help with your Website, Google Listing, Bing Listing, and Facebook Page? Check out our "DBC Sales Max Pro Package" for details on how we can get your restaurant to the top of Google within 10 days.
Need help with Facebook and/or Instagram marketing or email and text message marketing? Our "DBC Sales Max Ultimate" package can take care of that for you too.
What is DeliveryBizConnect? Does it Save Money?
DeliveryBizConnect reduces online ordering and delivery fees for our customers by $1500/month with FREE pickup orders and 3.33% deliveries with our premium drivers.
Our restaurant customers increase dine-in, delivery, and pickup restaurant sales, with less staff, through their self-controlled online ordering for delivery and/or takeout page and mobile app.
No more taking time-intensive and error-prone phone orders save you even more.
DeliveryBizConnect customers also enjoy the ability to have a no-touch QR code contactless dine-in menu ordering saving them once again on labor costs.
Our Mobile App (branded to our customer's restaurants) generates another 11% sales increase in take-out and delivery orders.
What is DeliveryBizConnect? A system generates an $8400/month positive difference in cash flow for our average small restaurant customer…
Want to save more?
Do local deliveries with your own staff.
Our driver app allows you to hire drivers not completely familiar with the area to deliver for your restaurant, generating a 20% increase in profit AND higher restaurant customer satisfaction.
We trust this helps you know the answer to "What is DeliveryBizConnect?" Learn more at https://deliverybizconnect.com or call/text us at 1-888-852-1853