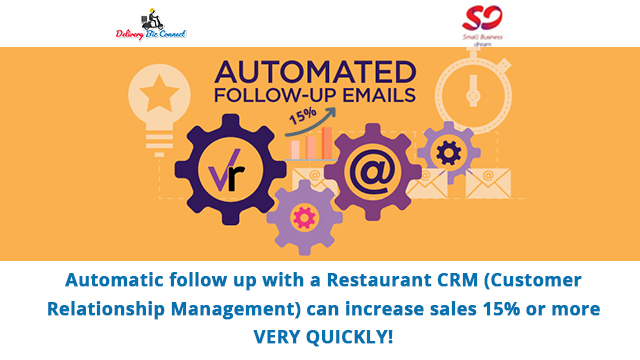 Restaurant automated email follow up increases your restaurant dine-in takeout and delivery sales collectively 15% or more with little or no effort.
Fun things happen once you start collecting data from your customers. You'll be able to remarket to them again and again through automation while letting your creativity fly with special deals and offers galore.
Question: what if they don't want to be in your restaurant email list? Great! They just saved you plenty of hours so you can spend more of it on those who do.
The key to using restaurant automated email follow up to increase restaurant sales is to not push it. Remember, everybody likes an offer. Repeat customers in particular are more likely to say 'yes' to it compared to first time customers.  Easy to know if you have a restaurant CRM like DeliveryBizConnect.
So what exactly does each piece of data earn you? We've found out that you'll earn $26.67 in annual sales on each of those. When multiplied with how many people you have in your list, that number shoots to the roof!
Restaurant DATA is worth its weight in GOLD if you know how to use it. It actually has a provable value of $26.65 increase in annual sales per piece of data when used in a restaurant CRM.
DeliveryBizConnect gives you the tools to turn that data into gold. Get 15% more sales by automating some of your tasks and creating your own personalized restaurant automated email follow up series.
DBC's restaurant online ordering system allows you to start taking online orders vs. just phone and walk-up orders and increase your restaurant sales by 30%, plus another 11% thru mobile app orders. Save on delivery costs using our 3.33% of Order Deliveries vs. 30% from the other big apps. Do takeouts and your own deliveries thru the Driver App and get 20% more sales.
Find out how you can rapidly grow your restaurant business at https://deliverybizconnect.com