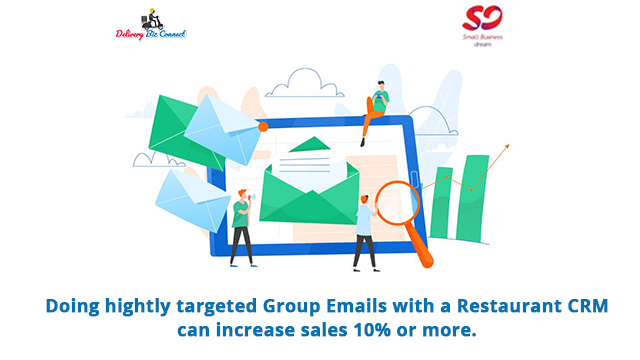 Restaurant targeted group emails add 10% on top of your sales with little or no effort.
One great advantage of having a CRM like DeliveryBizConnect is it allows you to categorize your clients based on information gathered from online orders, phone orders, and walk-up orders. Everything from names to their most ordered items, they're all there just waiting for you.
What if you can instantly and automatically categorize your customers based upon their orders and send restaurant targeted group emails exclusively to them? Imagine if you have a restaurant CRM that can do just that. Life gets so much easier!
Send restaurant targeted group emails about your newest signature burger or hot wings special on a Wednesday or Friday. Easy to do with a restaurant CRM like DeliveryBizConnect.
Don't want your emails? No worries. They can unsubscribe at any time and it won't cost you anything. Remember, it's 10% ON TOP of your sales.
But that's not all.
DeliveryBizConnect also allows you to get 15% more sales on your automated follow up series.
Start taking online orders vs. just phone and walk-up orders and increase your restaurant sales by 30%, plus another 11% thru mobile app orders. Do takeouts and your own deliveries thru the Driver App and get 20% more sales. Save on delivery costs using our 3.33% of Order Deliveries vs. 30% from the other big apps.
Find out how you can rapidly grow your restaurant business at https://deliverybizconnect.com