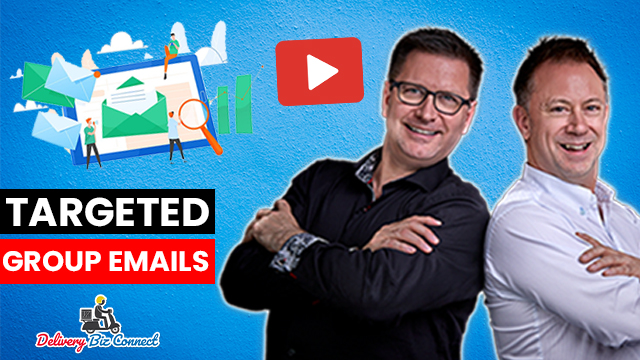 Restaurant Email List used for restaurant targeted group emails add at least 10% on top of your sales with little or no effort.
One great advantage of having a restaurant CRM like DeliveryBizConnect, in addition to being able to use Email Marketing to increase customers, is it allows you to automatically collect your restaurant customers contact data with a Dine In Sales Growth and Data Collection program.
Many restaurant owners think customer data is hard to collect, and even harder to use.
Many even question the value of collecting it.
The average restaurant who starts using a Restaurant CRM with the purpose of doing highly targeted group emails, text messages, and push notification marketing sees a 23% increase in sales over 8 their first 8 months.
The hardest part about doing highly targeted group restaurant email marketing is writing the content, and having the creativity as to what types of campaigns can work.
There are actually a lot of ways to do a little work and get a lot of results with targeted group emails combined with restaurant email series campaigns.
Make some emails you can just put on repeat on a monthly or bi-monthly basis. Make sure they have value to your restaurant customer. Things like:
Email your Happy Hour menu – once a month
Email a single category of your menu (Appetizers, Soup, Salad, Main, Dessert) a suggested item at the top (offer a special price for bringing in the email within 7 days if you want to see how great it works) – 1 category per month set to repeat annually
Holiday greetings with maybe a 10% off if come in with this email within 7 days; Christmas, New Years, Halloween, Easter, Thanksgiving, Valentines Day, Summer is Here, Fall is Here, Spring is Near, Winter is upon us- repeat each annually
These alone gives you 2 touch points per month FULLY automatic once you set them up in your Restaurant CRM.
Never offer a discount offer in a targeted group email or text message campaign unless you can meter it to know how it worked. This is easier than it sounds. Simply write the rule: In order to qualify for this discount offer, you need to bring a copy of this email or a picture of it on your phone and show it to your server within 7 days.(or 10 or 30, whatever you like, shorter is better)
You can then count how many times you handed out the offer as a result of the group email.
You can then also send restaurant targeted group emails to your restaurant email list about your newest signature burger or hot wings special on a Wednesday or Friday.
You can announce menu items you will discontinue. This is one of the most powerful strategies, people who loved it respond and fill your restaurant in the week before you make it disappear.
All this is easy to do with a restaurant CRM like DeliveryBizConnect.
Worried your restaurant customers don't want your targeted group emails? No worries. First, keep in mind they opted in on their own in the first place. Second, they can unsubscribe at any time and it won't cost you anything.
Remember, a single blast of a 3000 person database can add at minimum 10% ON TOP of your regular daily sales.
But that's not all.
A good restaurant CRM like DeliveryBizConnect also allows you to do automated email follow up series'. These combined with restaurant targeted group emails can propel your sales upwards 23% over 8 months.
Couple your restaurant CRM and Targeted Group Emails with a restaurant online ordering system allows you to even re-direct customers from coming at your busiest times with targeted offers to get them to order for pickup or delivery if you do them.
If you want to learn more about restaurant email marketing campaigns, check out this blog post.
Find out how you can rapidly grow your restaurant business at  https://deliverybizconnect.com
Looking for a Done For You solution that is turn key for your restaurant to utilize targeted group emails and restaurant CRM with online ordering to increase your sales 23% over the next 8 months? If you are a Canadian company you may even qualify for $2400 to secure DBC's top Sales Maximization Package.
Check our our Restaurant CRM and Digital Marketing Sales Maximization packages.