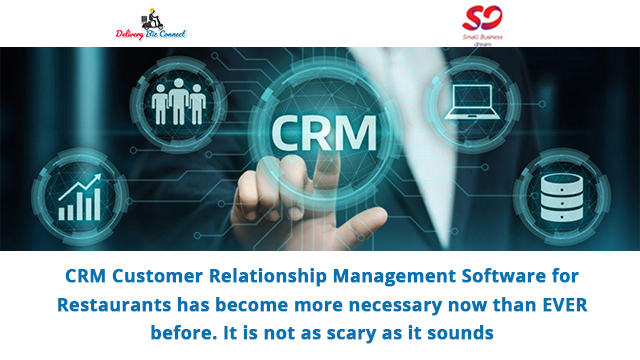 Restaurant CRM plays a major role in increasing restaurant sales these days but evenmore importantly for keeping you top-of-mind to your customers.
Love it or hate it, you need a restaurant CRM as soon as possible. Specifically, you need a CRM that has its own check in function to facilitate automatic restaurant data collection from your dine in customers like DeliveryBizConnect. 
Fun fact: Did you know check-in customers who signed up to your list have a much higher response rate (83%) compared to just Facebook friends and followers (0%)?
Restaurant CRM gives you the ability to remarket by email, text message, and even push notification (if your Restaurant CRM has a mobile app for your customers branded to you like DeliveryBizConnect) to to bring your customers back again and again.
Need more sales? Offer some goodies like free French fries for every $50 worth of orders. Offer a Free "Restaurant Bite" if they check-in or signup to your mailing list.
There's just so much you can do to get more sales once you have your restaurant customer data.
You can start taking restaurant online orders vs. just phone and walk-up orders and increase your restaurant sales by 30%, plus another 11% thru mobile app orders You can do takeout and do your own deliveries thru a Driver App and get 20% more sales, and so much more.
Find out how you can rapidly grow your restaurant sales with online ordering coupled with a restaurant CRM and automated customer data collection at  https://deliverybizconnect.com.