Welcome To Porto Fino Express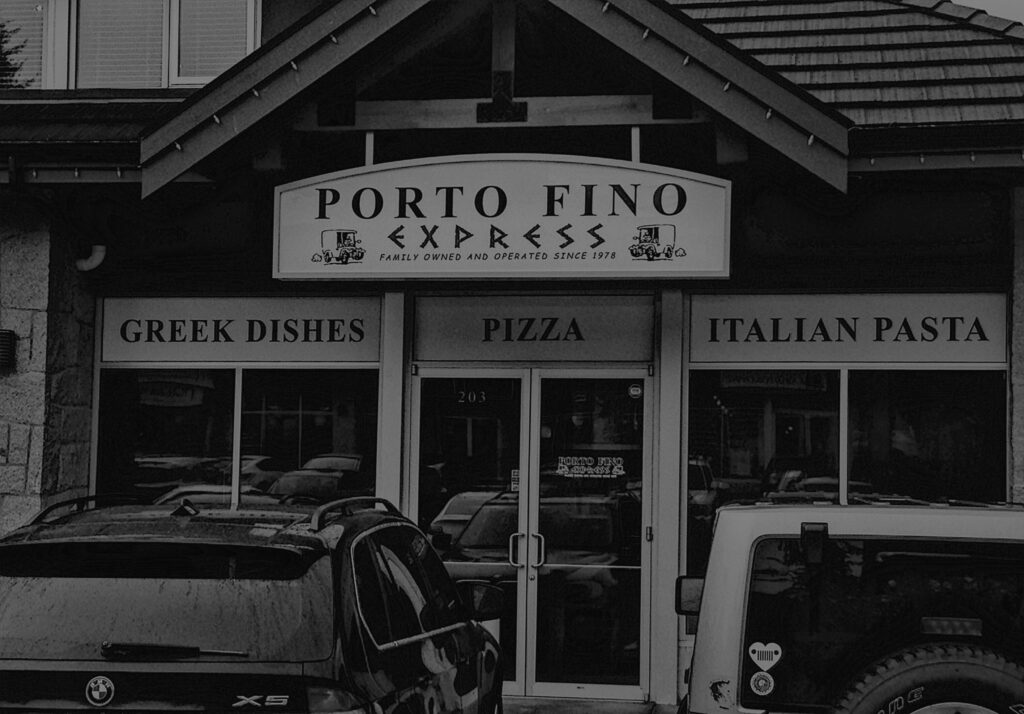 Porto Fino Express
Our Story
For pizza, Greek and Italian food lovers, Porto Fino Express Restaurant is the prime destination for takeout and delivery in South Surrey White Rock.
Located on 32nd Avenue in South Surrey, our establishment provides fresh and delicious food to our customers.
Our restaurant offers a wide variety of appetizers such as hummus with pita bread, Greek salad and garlic prawns.
Main course options range from classic pizzas to chicken souvlaki platters with roasted potatoes or lasagna with meatballs.
All of the items available at Porto Fino Express are made using only the freshest ingredients for an unforgettable culinary experience.
While we do not have Dine-in, choose from takeout & delivery services offering convenience without compromising quality.
Porto Fino Restaurant first opened in 1978 in Kamloops. Then in 1982 came Porto Fino in Delta, followed by Surrey, and now in the South Surrey/White Rock area.
Peter and his family take great pride in offering not only the best Greek & Italian food in the area, but also great service and a family type atmosphere.
What can we do for you?
Porto Fino offers authentic Greek and Italian cuisine right in the comfort of your own home.
Not to mention, the best pizza in town. You can either come by for a visit or let us deliver the food right to your door.
Specialty Services
We offer School Hot Lunch programs and catering menus for all occasions.
Porto Fino Express is located at 14016 32 Avenue Surrey, British Columbia V4P 2J2 Canada.
Porto Fino Express | Featured Menu Items
Salads and Appetizers
This menu is for Porto Fino Express South Surrey location only. 14016 32 Avenue, Surrey

Greek Salad
Spanakopita
Spinach and feta wrapped in a filo pastry.
Tyropita
Feta cheese wrapped in a filo pastry.
Hummus
Garlic and chick pea dip served with pita.
Tzatziki
Yogurt, garlic, and cucumber dip served with pita.
Garlic Prawns
served with garlic bread
Authentic Greek Dishes
Chicken Souvlaki
Boneless breast of chicken marinated skewered and broiled to perfection.
Lamb Souvlaki
Skewered and marinated cubes of tender lamb broiled to perfection.
Prawn Souvlaki
Mouth-watering prawns lightly seasoned and broiled to perfection.
Tyropita
Feta cheese wrapped in a filo pastry.
Roast Lamb
Tender lamb shoulder slowly roasted and cooked with our own herbs, and spices.
Mousaka
A Greek casserole style dish consisting of eggplant, zucchini, and spicy ground beef topped with our own bechamel sauce.
Greek Style Ribs
The best baby back ribs marinated in Greek herbs and spices.
Spanakopita
Spinach and feta cheese wrapped in a filo pastry.
Fresh Italian Pastas
Linguini Bolognese
A meat sauce with 1 heck of a kick
Linguini Meatballs
Tortellini Gambretti
Shrimp in a creamy tomato sauce. Baked with edam and mozzarella cheese.
Ultimate Mac & Cheese
Baked Tortellini Alla Panna
Cheese stuffed tortellini simmered in a cheesy alfredo sauce.
Lasagna al Forno
Baked with meat and tomato sauce, mozzarella and edam cheese.
Lasagna with Meatballs
Lasagna (Small)
Baked Linguini Alfredo
Baked Three Cheese Tortellini
With tomato sauce, mozza, edam, and feta.
Baked Tortellini
Gyros
Original
Chicken Gyro
Thank you for choosing Porto Fino Express. We appreciate your business.
We now have our own Online and Mobile Ordering Platform. By ordering with our app or online ordering, you can help us keep our menu prices lower and save on fees.
The next time you crave Porto Fino Express but prefer to enjoy it at home or while out and about, please order for pickup or delivery by downloading our app using the link, or scanning the QR code.
Porto Fino Express supports DeliveryBizConnect and loves how they help us increase restaurant sales.