Welcome To Sazón Mexican Cuisine
Sazón Mexican Cuisine: Authentic Flavors, Unforgettable Experience! Transport yourself to the vibrant streets of Mexico at Sazón Mexican Cuisine in Kitsilano, Vancouver. Our passionate team from Mexico serves up traditional homemade dishes bursting with authentic flavors. Indulge in mouthwatering tacos, cheesy quesadillas, and smothered enchiladas. With a friendly atmosphere and attentive staff, Sazón is the perfect place for a memorable dining experience. Bring your furry friends to our dog-friendly patio or gather the whole family for a fiesta. Rave reviews praise our flavorful dishes and warm hospitality. Join us at Sazón and let your taste buds dance to the rhythm of Mexico! ¡Buen provecho!
Sazón Mexican Cuisine is located at 2698 West 4th Avenue Vancouver, British Columbia V6K 4S3 Canada
Sazón Mexican Cuisine's Featured Menu Items
Margarita – Includes: Cointreau , Tequila (1 oz)
Paloma – Includes: Tequila , Jarrito grapegruit
Pitchers
Rumchata – Includes: Rum (1 ½ oz)
Sangría – Includes: Red wine , White wine (3 oz), Brandy (0.47 oz)
Vodkchata – Includes: Vodka (1 ½ oz)
Chips & Salsa – Corn tortillas chips and homemade salsa.
Guac & Chips – Whole avocado smashed with pico de gallo, lime, spices and salt.
Tamal Snack
Burrito – Flour tortilla or bowl with rice, black beans, cheese, pico de gallo, sour cream and salsa.
Chilaquiles – Fried corn tortillas with homemade green salsa, topped with cheese, sour cream, cilantro and onion.
Chile Relleno – Green chile pepper stuffed with cheese, covered in an egg white batter, siply flour and fried.
Churros – Four tiay strips of fried dough dusted with sugar and cinnamon.
Mexican Flan – Sweet custard made from eggs, milk, cream cheese, soaked with caramel sauce.
Popsicle – Ask for available flavors.
Sweet Tamal – Made with a corn based dough mixture strawberry flavour with raisins.
Empanadas – Stuffed puff pastry, salty or sweet baked.
Ask for available flavors.
Big Bag of Chips
Salsa Container To Go
Side of Guac
Side of Refried Beans and Rice
Side of Salsa
Thank you for choosing Sazón Mexican Cuisine. We appreciate your business.
We now have our own Online and Mobile Ordering Platform. By ordering with our app or online ordering, you can help us keep our menu prices lower and save on fees.
The next time you crave Sazón Mexican Cuisine but prefer to enjoy it at home or while out and about, please order for pickup or delivery by downloading our app using the link, or scanning the QR code. https://176838.com/Sazon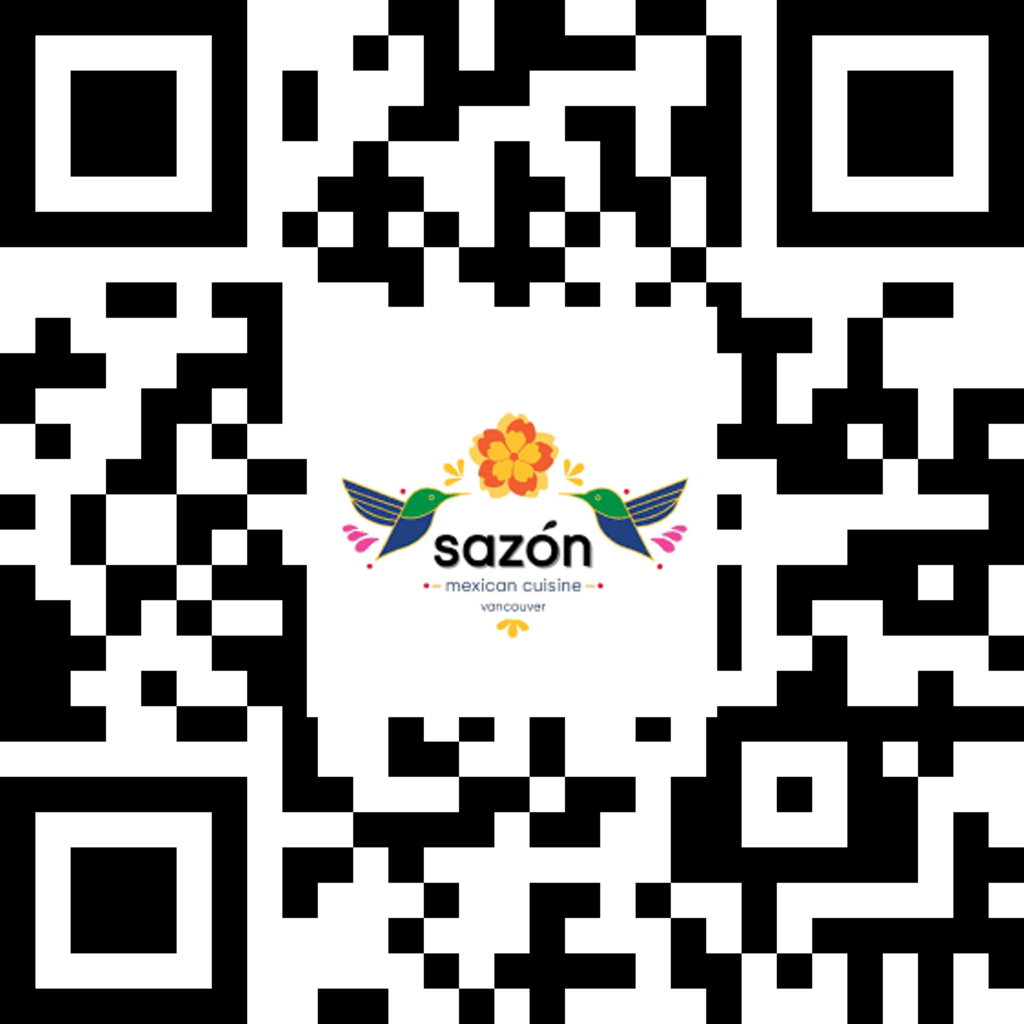 For more information, please visit Sazón Mexican Cuisine's website at:
The Best Restaurant, Mexican in Vancouver – Sazón Mexican Cuisine at 2698 West 4th Avenue
Tel: (604) 558-0259
Sazón Mexican Cuisine is located at 2698 West 4th Avenue Vancouver, British Columbia V6K 4S3 is a customer of DBC Technologies Ltd. provider of Restaurant CRM, Online/Mobile Ordering System, SEO Optimization, Social Media Marketing, Text Message Marketing, & Email Marketing to restaurants around the world.
Check out their Hungry Page on DeliveryBizConnect.com at:
You can learn more about DBC Technologies Ltd. and Restaurant CRM at: