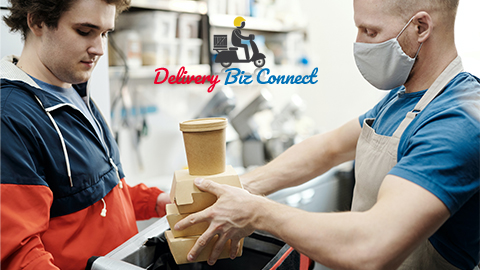 Are you tired of paying 30% on every sale when you could have done it yourself? Wouldn't it be great if you could just use the commissions for your own business? Love it or hate it, third party delivery apps is not going away anytime. In fact, it's one of the most sought-after business app during this whole pandemic.
Let's start by answering this one question many restaurant owners are asking about.
Should You Use Third Party Delivery Apps?
Third party delivery apps are a godsend in the food business, especially restaurants and cafés with low foot traffic. Some restaurants have experienced a massive increase in sales to a point where they allocated their resources into creating "virtual restaurants" for their small businesses.
These businesses where able to thrive while operating on extremely cramped spaces with the help of tech companies. Think Grubhub, DoorDash, and Uber Eats. But was it always the case?
According to a New York Times article, it's not all sunshine and roses. One pizza shop owner lost $40,000 in annual profits when customers transitioned from direct orders to ordering through the app and he was forced to pay the commissions. His pizza shop business went under in what he aptly called, "death by a thousand cuts."
There's no doubt when it comes to the amount of exposure one gets through these online delivery apps. But 10-30% on every sale might be a little too much when you're dealing with patrons and repeat customers. Fact is, you can get as much exposure using CRM and social media with pretty much the same amount per new customer.
Sounds good. But is there actually a CRM that does that? That's where DeliveryBizConnect, powered by Small Business Dream, comes in. DeliveryBizConnect is like having a delivery service app and CRM rolled into one.
Now to the question, "Should you use third party delivery apps?" we'd say do whatever works for your business. But if you want to stay in business for as long as you possibly can, you're in a much better position using a delivery-optimized CRM and doing your own deliveries.
But first, some safety reminders.
Safety Precautions and Food Prep during this crisis
As we are now entering this "new normal" in food business, we also need to reconfigure our restaurant and café. This way we're able to conform with safety protocols like sanitation, social distancing, contactless transactions, etc. Pay extra care on the following:
Kitchen staff – Always wear masks, gloves, and hairnet or cap at work.
Delivery staff – Wear masks and gloves. Should stay away of the kitchen area.
Food contact surfaces – Sanitize everything from kitchen utensils, pots, sink and countertops.
Pay terminals and cash registers – Cash payments carry risk of transmission. If you accept one, always make a point to sanitize regularly. If possible adopt contactless payments.
Pickup zones – Mark areas for your curbside pickups to maintain proper distancing.
Coolers and insulated bags – Sanitize on each delivery.
No-touch deliveries – Include delivery instructions like calling, texting upon arrival or using doorbell codes.
We also suggest documenting your safety protocols. Use actual pictures and raw footage of your kitchen and employees from logging in to food prep, and delivery. The more detailed, the better, and the more people will trust you. The FDA has issued the guidelines and best practices for restaurant owners during this pandemic.
You can read our full guide by downloading a free copy of our e-book: How to Use 5 Simple Secrets for Restaurant and Staff Survival. It's packed with useful tips and suggestions from designing your menu, doing your own deliveries, and utilizing customer data.
Help Is On Its Way – Get Your Employees back, ASAP!
Restaurant owners are among the hardest hit by this crisis. But the good news is, governments all over the world are responding the call for help. You can now re-hire your staff and make use of the 75% wage rebates. However, understand you won't be running your restaurant or café like you used to. The "new normal" is around 50 to 75% of your operations would involve takeouts and deliveries.
Of course, those already using them got the head start, but it doesn't mean you won't have an edge. Just by implenting your own optimized delivery service already saves you up to 30% in commission fees – every single time.
It all starts by getting your employees back, ASAP. After learning these things we're going to share with you, your restaurant will get really busy doing your own deliveries. The next phase involves setting up your own delivery-optimized CRM. If this is your first time (or you're not happy with your current CRM), you can get ahold of us by booking your free 30-minute delivery expert call and we'll reach out to you the best way we can.
Do Your Own Marketing
Third party delivery apps offer a definitive advantage in terms of reach vs. not having a marketing plan. However your advantage stops when commissions start eating up on your profits, so you need to scale up pretty fast and you need your takeouts and deliveries firing on all cylinders just to keep up with the cost (click here to check how many deliveries before you break-even using a third party delivery app).
Or, you can do your own marketing and pocket the 30% commissions for your company and staff to enjoy. We're not saying, "Don't use third party delivery apps." You can, if you need more exposure. However, just bear in mind you also need to bid higher than most restaurants to even show up on their app. The solution? Do your own marketing. Get your delivery-optimized CRM and tap your re-hired staff to do the marketing for you.
Of course, you know where most people are these days. If you haven't have a Twitter, Instagram, or Facebook page, or you haven't looked into it for a while now's the time to use them. Invite people to your page. Let them know you're still in business. Share pictures and videos of your food prep, menu, and deliveries. Boost your posts if you have to. Be active on social media.
Design Your Own Menu
This involves two phases. First you need to create a list of 'take and bake', long-lasting, and pantry items, and your optimized takeout menu. The next phase involves using a CRM for creating your takeout and deliveries menu page which you can use for taking orders while continuously building your customer base.
Here's a short demo on how's it done through DeliveryBizConnect, powered by Small Business Dream.
When it comes to your menu items, always think in bulk. Think of delivery-optimized takeouts like fries, etc.
Your menu might look something like this:
Casserole type dishes (tuna, burrito, pierogi, meatloaf, shepherd's pie, mac and cheese, etc.)
Chicken wings (cooked, ready-to-cook/re-heat, fresh or frozen)
Meat/fish/poultry (marinated)
Pantry items (flour and cooking supplies)
Muffins (4-packs for breakfast)
French fries (thicker cuts with batter coating)
Drinks (liquors and beverages)
Make sure to test run your menu items from cooking to delivery. Include instructions for fresh, frozen, and re-heatable items. Vent your containers so food won't end up soggy. Find the fastest route so they arrive hot and fresh.
If you want to learn more, these are all included in our How to Use 5 Simple Secrets for Restaurant and Staff Survival which we're giving away for free.
Do Your Own Deliveries
Perhaps the most challenging part if you never had one before is doing your own deliveries. Oriental restaurants and fast food had been doing this for decades like it's nobody's business. But how about your re-hired staff whom you had to cross-train to be able to know his way around the metropolis and the suburbs?
Luckily these days, we have technology on our side like GPS, Google Maps, and Waze to help us out. Pair it with a delivery-optimized CRM, and now you have your own delivery service much like Uber Eats and DoorDash without the extra cost of paying 30% on every sale. Plus, you get the bonus of being on top of things with tools like sales and marketing automation not available on third party delivery apps. If this doesn't sound like a great opportunity to you, I don't know what is.
Final thoughts
The first half of this year has been a roller-coaster ride for restaurant owners. But it's not all doom-and-gloom for the industry if we knew how to capitalize on every situation with a little bit of creativity and doing smart decisions. There's always a golden opportunity in every situation. Perhaps it's nature's way of putting some businesses to sleep so those that really give value to people like ours can shine the most.
Need Small Business Advice During this pandemic?
We want to reach out and talk with you through our FREE 45-minute business consultation where we can discuss some solutions to get you through the pandemic.
We lay out every possible means to keep you in business, whether it's through LinkedIn, Facebook, Twitter, email series, sales funnels, landing pages or business directories.
Can't go to the office? Download SBD Sales and Marketing Automation App for your mobile and keep tabs on your business in the comfort of your homes.