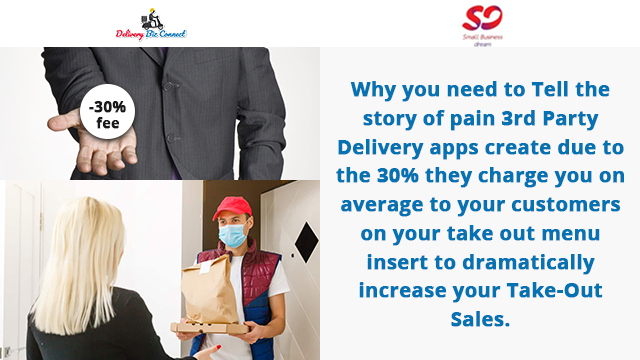 New reality restauranteur businesses are hurting right now. Customers aren't aware how much financial pain it's causing them each time they order through these third party delivery apps.
Use third party delivery apps to get new customers. That's fine. Besides, you'd give off 25% or a 2-for-1 to get more customers when you were starting out. Same thing with the current new reality, restauranteur businesses should only be using them to get new customers coming in.
What's crazy is they even have these ridiculous ads saying they support local restaurants by waiving the delivery fees but still collecting 30% from them. Really??
Your customers are oblivious to the fact they're hurting your business everytime they order from these apps. Reach out to them. Get the data from these third party delivery apps and use them to your advantage.
DeliveryBizConnect lets you do online orders vs. just phone and walk-up orders, increasing your restaurant sales by 30%, plus another 11% thru mobile app orders – absolutely 0% commission fee!
Do takeouts and do your own deliveries thru the Driver App to get 20% more sales.
You'll also get as high as 83% conversion rate when you subscribe your check-in customers to your list using Deliverybizconnect check-in function and CRM for an additional 25% increase in sales.
Find out how we're helping new reality restauranteur businesses at https://deliverybizconnect.com