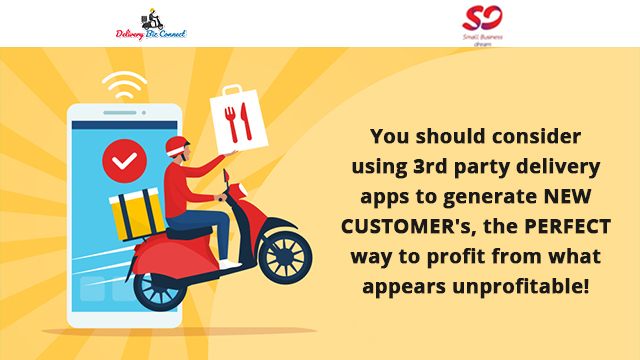 3rd party delivery app is a perfect way to profit if you have a strategy. This sounds a bit counterintuitive. But the truth is, they're great at one thing – generating NEW CUSTOMERS for your restaurant.
So how do we make the unprofitable profitable? If you're following along from Step 1 of our Rapid Restaurant Sales Growth 9 Step New Reality Plan, you probably already have a system to collect data from all your customers. This is key. Otherwise you're stuck paying 30% commission fees every single time.
Here's the strategy: use the 3rd party delivery app to FILL YOUR OWN DATABASE with NEW CUSTOMERS!
Now you'll be able to do your own deliveries and get rid of the 30% commission fees. We're not saying don't use 3rd party delivery app. By all means use them – as a LEAD GENERATION tool.
DeliveryBizConnect will get you covered on your takeouts and your own deliveries thru the Driver App that's guaranteed to give 20% more sales from your happy, satisfied customers.
 Start taking online orders vs. just phone and walk-up orders and add an extra 11% thru mobile app orders. Save on delivery costs using our 3.33% of Order Deliveries vs. 30% from the other big apps. Use DeliveryBizConnect check-in function and CRM for an additional 25% increase in sales.
Find out how you can rapidly grow your restaurant business at https://deliverybizconnect.com